The Mower Boss lawn mower sprayer is perfect for ZTR mowers. Given the variety of chassis designs for ZTR's it is a challenge to design a "one fits all" solution so an adapter is typically required.  These adapters are easily made from a small piece of sheet metal.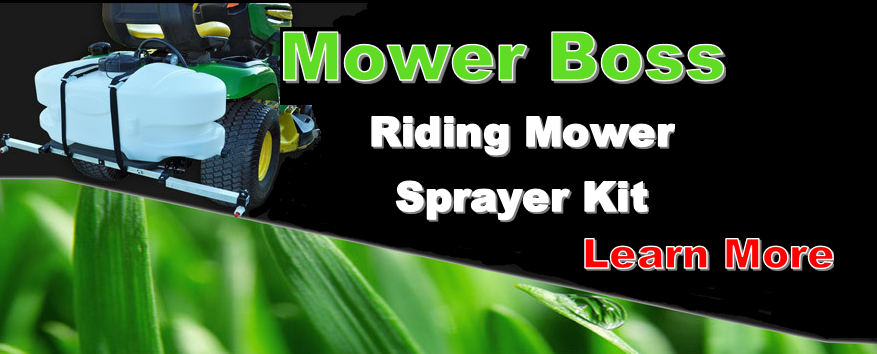 These photos show some ZTR rear chassis designs common among the ZTR mowers.
The Mower Boss platform will fit your ZTR if you have a rear support plate that can support the 4 independent mounts. Download this drill hole template to see the spacing of the mounts. Template
If your ZTR does NOT have a large rear support plate, you can purchase some 1/8″ thick steel plate ( 12″ x 8″) and bolt it to the rear chassis and then the Mower Boss can be bolted to this steel plate.
If you send us a picture of your ZTR's rear chassis plate, we will be happy to assist you in the process.
Zero Turn Sprayer Attachment
Many landscapers and some homeowners are interested in a sprayer attachment for their zero turn mowers. ZTR's are known for covering a lot of ground very quickly. Although many people believe they require a higher level of skill to operate than a walk behind mower or a riding mower, acquiring that skill and putting it to use can mean a great improvement in efficiency due to the agility of the zero turn design.
One of the drawbacks of the ZTR though is utility. While a lawn or garden tractor can be fitted with any number of attachments, ZTR's are less useful in this way. And attachments that do exit and fit are typically extremely expensive.
We've had many customers take our mower platform and adapt it to work on ZTR's. At that point, it is also possible to install one of our sprayer attachment kits.
Because ZTR's come in so many shapes and sizes, it's best to contact us to let us work out a combination of parts that best fits your make/model of zero turn.